In this article we discuss Is The Rock still wants to run for US president? The Rock, the iconic actor and former WWE superstar, has always been a charismatic figure who has captivated audiences worldwide. In recent years, there has been much speculation about whether he would consider running for President of the United States. While he has expressed interest in the past, he recently clarified his priorities during a conversation with Trevor Noah.
Is The Rock still wants to run for US president
Family First, Presidency Later: The Rock's Current Focus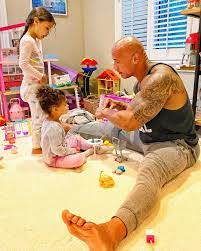 The Rock, who is known for his dedication to his family, emphasized his desire to be present for his two young daughters. He acknowledged the demanding nature of running for president and stated, "I know what that's like to have an occupation that takes me away from being a daddy. And this time around, with my 7 and 5-year-old, I want to be a daddy. And that's the most important thing to me. So be around, be there, I want to be around."
Leaving the Door Open for a Future Run: The Rock's Potential
Despite prioritizing his family at the moment, The Rock did not completely rule out a future presidential bid. He expressed, "I think down the road for sure." This suggests that he may consider running for office once his children are older.
The People's Choice: Public Support for The Rock's Candidacy
The Rock's popularity and charisma have undoubtedly attracted the attention of many potential voters. His fans have expressed their support for his candidacy, and many are hopeful that he will consider running for president in the future.
Conclusion
The Rock's decision to prioritize his family over a presidential run is a testament to his commitment as a father. While he has left the door open for a future bid, his current focus is on being present for his children. As his daughters grow up, it will be interesting to see if he reconsiders his political aspirations.